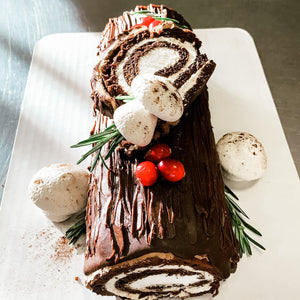 whitelionbaking.com
Buche De Noel
Regular price
$80.00
$0.00
Unit price
per
Dairy Free & Nut Free Yule Log! Gluten & Grain Free Chocolate Cake with Coconut Whip Icing! A holiday favorite
There is a $5 increase in price ($80 shipping vs $75 pickup) due to the required packaging + material needed to ship the Buche de Noel 
How to assemble your Buche De Noel.
Read all of the instructions first, so you know what to do!
Upon arrival, remove all of the ingredients from the box and place in your fridge EXCEPT for merengues, leave those on the counter so they stay crunchy. Do not take the plastic wrap off of the log, as you need it to chill it before removing.
Day of assembly: melt chocolate in microwave for 30 seconds to 1 minute, stir until smooth. You're going to use the melted chocolate like a glue to hold everything in place. 
Remove all ingredients from fridge. Peel plastic off of Buche de Noel.  With a warm knife (run knife under hot water and then dry off) slice off the end of the log, put a dollop of chocolate in the middle top of the log and place the slice (white swirl up ) on top of the melted chocolate.
Merengues: place a little melted chocolate on various parts of the log and or platter, and stick the meringues to the chocolate. If the stems and tops have come apart, just use a little chocolate to glue together.
Do the same with the fresh cranberries, you can use the photo as your guide or just have fun with it. 
Place rosemary around the log as well. 
But most importantly; have a wonderful, warm holiday and thanks for letting us be part of your tradition. 
Liz and team.
---